Sale price
Price
Regular price
Unit price
/
per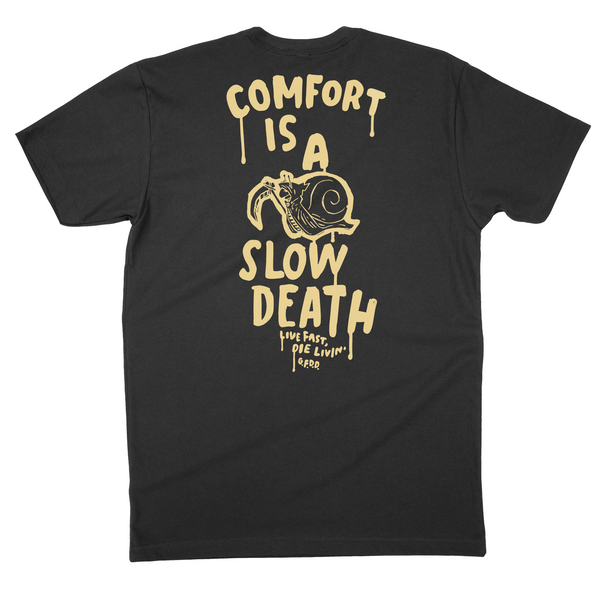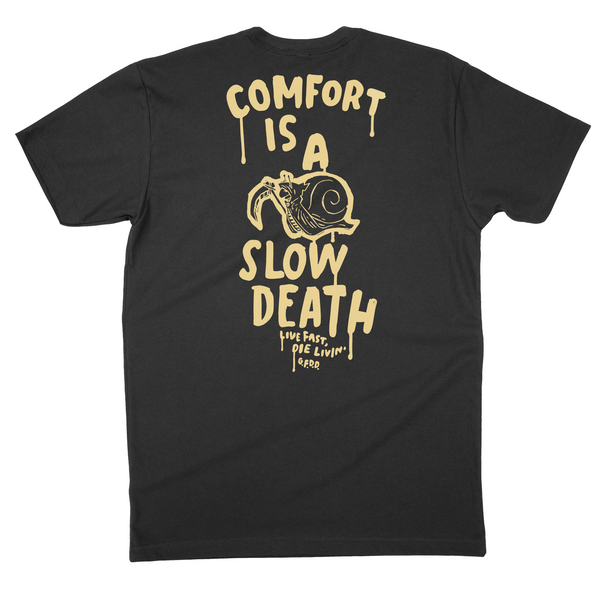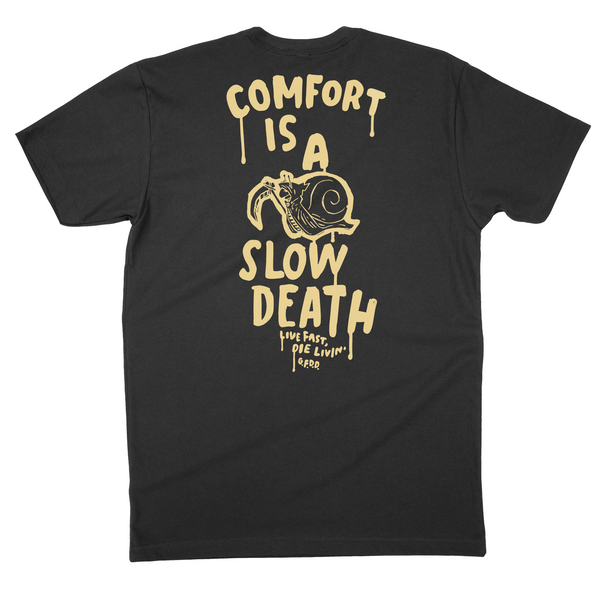 The new "Slow Death" Tee is your wearable reminder that your life is your own story to write, the pen is in your hands and the clock is tickin'. Read on to catch the heart of this piece and what a "Slow Death" means to us. Wear it out.

He who becomes the slave of habit,
who follows the same routes every day,
who never changes pace,
who does not risk and change the color of his clothes,
who does not speak and does not experience,
dies slowly.
He who shuns passion,
who prefers black on white,
dotting ones "i's" rather than a bundle of emotions, the kind that make your eyes glimmer,
that turn a yawn into a smile,
that make the heart pound in the face of mistakes and feelings,
dies slowly.
He who does not turn things topsy-turvy,
who is unhappy at work,
who does not risk certainty for uncertainty,
to thus follow a dream,
those who do not forego sound advice at least once in their lives,
die slowly.
He who does not travel, who does not read,
who does not listen to music,
who does not find grace in himself,
she who does not find grace in herself,
dies slowly.
He who slowly destroys his own self-esteem,
who does not allow himself to be helped,
who spends days on end complaining about his own bad luck, about the rain that never stops,
dies slowly.
He who abandons a project before starting it, who fails to ask questions on subjects he doesn't know, he or she who don't reply when they are asked something they do know,
die slowly.
Let's try and avoid death in small doses,
reminding oneself that being alive requires an effort far greater than the simple fact of breathing.
Only a burning patience will lead
to the attainment of a splendid happiness.
—Martha Medeiros
This is a poem by Brazilian writer and journalist, Martha Medeiros. We posted it in a blog on May 19th, 2019 as our best explanation of what the "Don't Die" part of GFDD means to us.
Three years later it's still our most shared, most read blog post and we thought we'd share its content with you today. We hope you take some time this week with each line and decide how it challenges your story.
The goal, for us, is not a slow life or a swift death - it's to live the longest, "fastest" life with as few dead moments as possible.
Are there any slow deaths you are allowing in your life?
What would it mean or look like to replace those moments with more LIFE? 

"It's not the mountain that gets you, it's the rock in your shoe."
- GFDD
Regular tee is 60/40 combed ringspun cotton/polyester
Long Body version is 100% Cotton
Love the designs, not a fan of the materials
Very original designs with a strong message and beautiful art. Fell in love with these when they came across my feed. I'm a big guy, 6'1 250lbs, and I prefer thicker t-shirts such as Patagonia responsibilitees or Comfort Color 1717s, so I reached out to customer service to inquire. I was told that they do not use comfort colors but that I would be happy in comparison nonetheless. Gave it a shot, ordered during Labor Day sales, and received it.
Love the colors and design once again, but they are as thin as can be. Nowhere near the same quality as the shirts referenced above, so now I have two t shirts that were $30+ each on a sale that I never wear, unfortunately.
Awesome shirt
Love the message on the shirt, hence the purchase, but the material is so awesome. One of my most comfortable shirts!
Everything I hoped for
I absolutely love my two shirts, and stickers
And the two shirts I bought for gifts!
The messages are powerful.
Let customers speak for us
from 356 reviews