The Original Snailster Zip Hoodie
Sale price
Price
Regular price
Unit price
/
per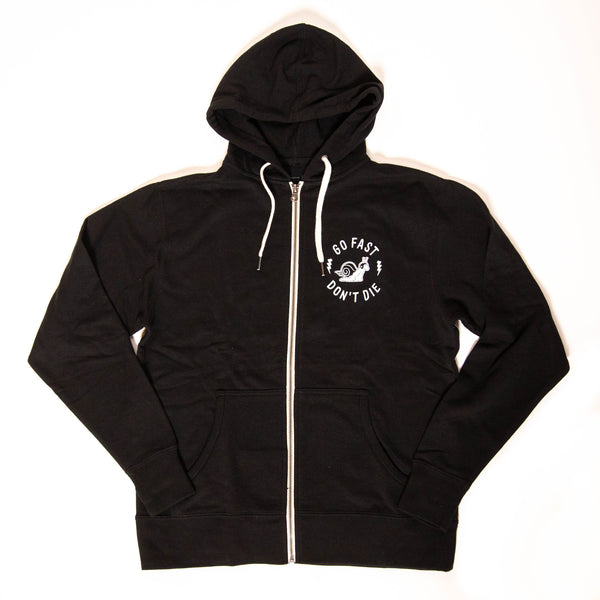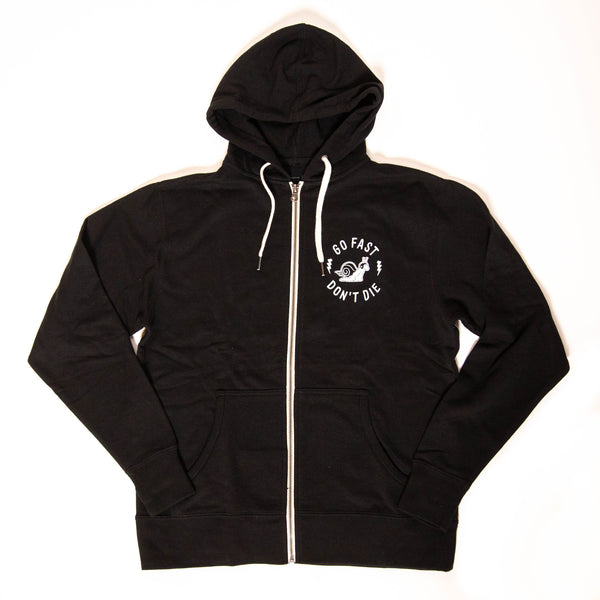 Speed Snail pocket GFDD Zip Hoodie
We haven't found the perfect name for him yet, but the speed snail represents us at GFDD beautifully. You see, fast to hike means he hits the other side of the garden before sundown...but he starts at sunrise and he goes as hard and as fast as his circumstances allow, which, because he is a snail, doesn't seem all that fast to the rest of the creatures. But are we here for the rest of the creatures? Do we need them to decide who and what we are? Too often we let what we look like, our gender, our motorcycles lack of magical "CC's" or whatever else it is tell us we're small time. We're peanuts. Well, my friends, that is why we follow the Speed Snail's lead. He brushes off the opinions of the other garden creatures, straps his helmet on and goes like hell. We do the same with our business, our road trips and our attitudes here at Go Fast Don't Die. We suggest you do the same. 
This thing  is made from the highest quality material we could find and even has thumb holes. Thumb holes.  Remember when we were kids and we pour the thumb out of our hoodies so we could be cool kids? Well, guess what...welcome to the future. This aeronautically engineered, scientifically proven, street tested, road approved thumb hole allows you the convenience and luxury of not having to be a barbarian to your wearable zip up keeper of warmth. Buy one, wear it out. ⚡️
HOW TO CARE FOR GFDD PRINTED GARMENTS:
Turn garment inside out.

Wash similar fabrics together (if you have the entire collection of GFDD tees, this should be easy...)

Wash in cold water on gentle cycle.

Use a mild detergent.

**Do not use liquid fabric softener**

If possible, avoid drying in a dryer. Hang or lay flat to dry.
GFDD The Original Snailster Zip Hoodie
GFDD; great stuff and creative!
Thin. Lacking in quality material.
For the price paid I expected better. This is the quality that I would find from a street vendor.
Good quality hoodie. Fit true to size. My husband loved it
Let customers speak for us
from 788 reviews