Kids & Cobras "Mayhem!" Coffee 10oz
Sale price
Price
Regular price
Unit price
/
per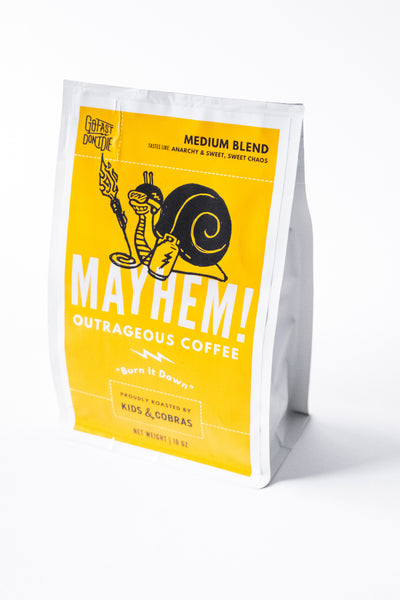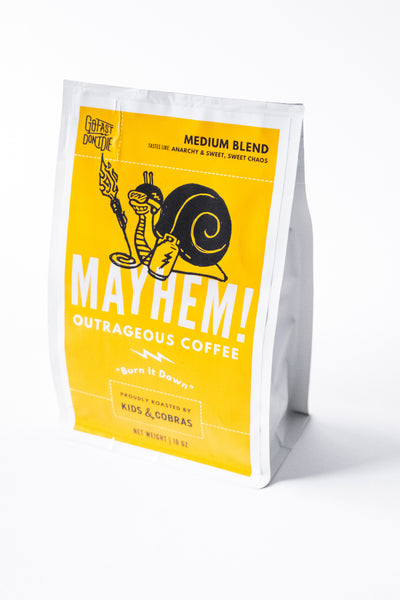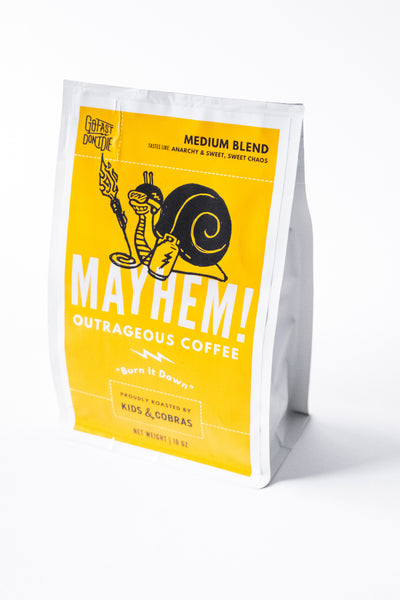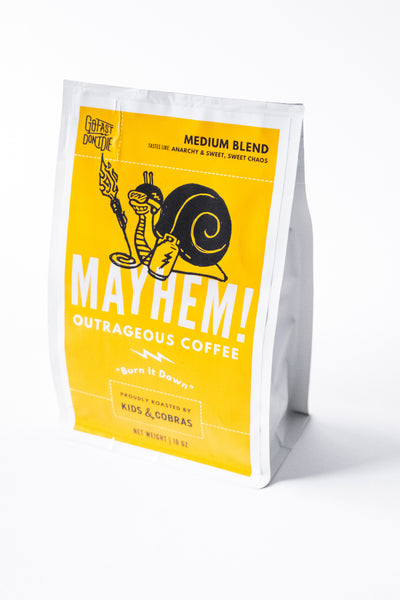 M A Y H E M  B L E N D

"Outrageous Coffee"
Introducing our Mayhem Blend, the bold craft blend that will awaken your senses and fuel your day.

This premium bag of coffee is carefully crafted using only the finest Arabica beans from South and Central America, handpicked at the peak of ripeness, and roasted to perfection by your friends in Portland, OR.

With notes of anarchy and sweet, sweet chaos - Mayhem offers a rich, bangin'-bodied taste that will satisfy even the most discerning and sophisticated (snobby) coffee dork.
Whether you're a morning flower or a night babe, a sip of Mayhem will give you the energy and focus you need to tackle whatever comes your way. Order now and join our very own Project Mayhem.

Roast Type:
Mayhem is a medium-roasted coffee. During the roasting process, we allow this bean to develop 20% after First Crack to give it that Vivid Brown look and rich chocolatey taste.

The primary bean we use is from Brazil. Brazil is the largest coffee-distributing country in the world which makes this coffee accessible throughout the year.

Brew Tips:
This medium roast is very approachable and super easy to use. You don't need a complicated recipe to extract its bold taste. From a coffee pot, it will give you that classic coffee taste that warms the heart. It's sweet, nutty, and chocolatey. If you really want to extract bolder tasting notes we recommend you brew it with a pour-over, French Press, or the traveler's favorite, the Aeropress.
I shoulda known…
…that upon ordering such an audacious purchase my life would be turned upside down by the sheer amount of mayhem it caused me. 10/10 would recommend if you like that sorta thing. The kick in the pants the caffeine gives rocks my world enough to wake a dragon from its slumber. The heat it puts off when brewed, though maybe temperature is my fault, is hot as a dragons fire… and the taste… honestly like what I imagine life would taste like after slaying said dragon and winning all its treasures. It's glorious. But if yer gonna order some yourself, ya might wanna make sure you got Allstate insurance, cause according to their commercials, they deal with the consequences of mayhem all the time.
But again, if you're into that sorta thing, it's 10/10!
Coffee!
Love the coffee and the fact that you auto replenish.
Let customers speak for us
from 788 reviews