Kids & Cobras "Murder Sickle!" Coffee 10oz
Sale price
Price
Regular price
Unit price
/
per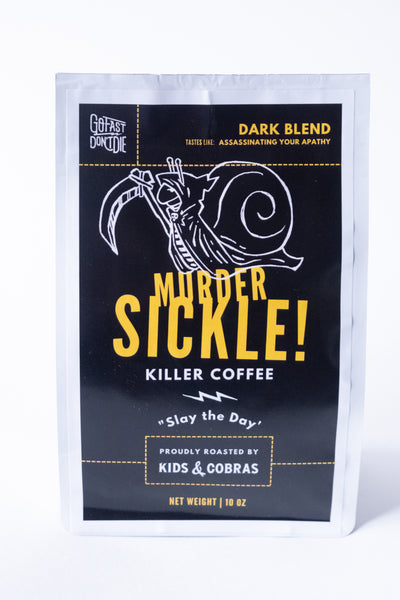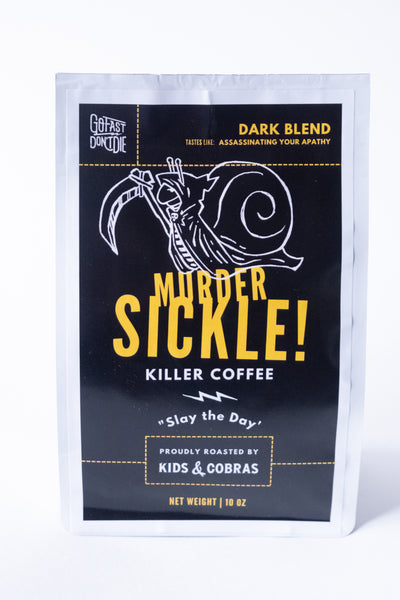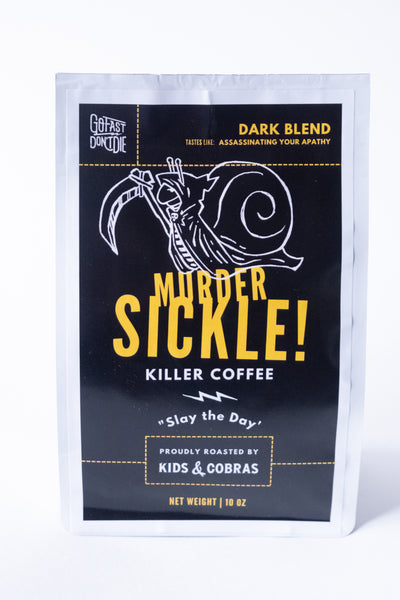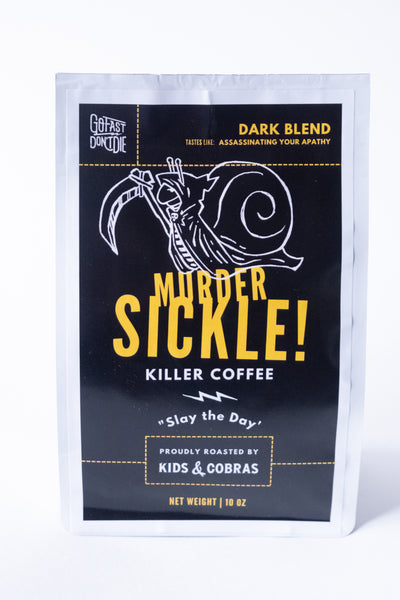 M U R D E R  S I C K L E   B L E N D

"Killer Coffee"
Tasting Notes:
Tastes like assassinating your apathy.
Roast Type:
Murder Sickle is a dark roast. During the roasting process, we allow this bean to develop past the first crack, then drop them out of the roaster just before the second crack. Dark roasts tend to be avoided by craft coffee roasters because they reflect more of the traditional tasting notes coffee drinkers in America are most familiar with. The beans are lighter because they have been roasted longer, causing them to lose more water weight. This means that you will actually have more caffeine in a 10oz bag of dark roast than in a 10 oz bag of lightly roasted coffee because more darkly roasted beans can fit into a 10 oz bag. With craft as our guiding value, we roast our dark coffees with skill. The goal is to capture hints of the coffee berry while bolstering that strong coffee taste.

The primary bean we use is from Brazil. Brazil is the world's largest coffee-distributing country, making this coffee accessible throughout the year.
Brew Tips:
You don't need a complicated recipe to extract its bold taste. You do, however, need to practice dialing in your grind size. Grind size will make all the difference. For a coffee pot or French Press, your grind will be more course like course sea salt. For a pour-over, your grind size will be like fine salt. For an Aeropress, you will want your grind size to be even finer. Coffee is a craft learned. GO easy on yourself and practice brewing with different grind sizes to learn what you like.
Our Brew Ratio Recommendations:
Pour-over: 225gm water : 16gm of coffee
Coffee Pot: For 6 cups of coffee, try 1420gm of water : 100gm of coffee

Coffee makes me want to live
I get the Murder Sickle monthly. Best coffee. Love it. Can't live without it. I'll leave it there.
Favorite Coffee
This coffee, as well as their others, is so good. We can't get enough! The flavor and freshness really show their care for their product. Love the coffee and the companies bringing it to our family.
Let customers speak for us
from 788 reviews