Sale price
Price
Regular price
Unit price
/
per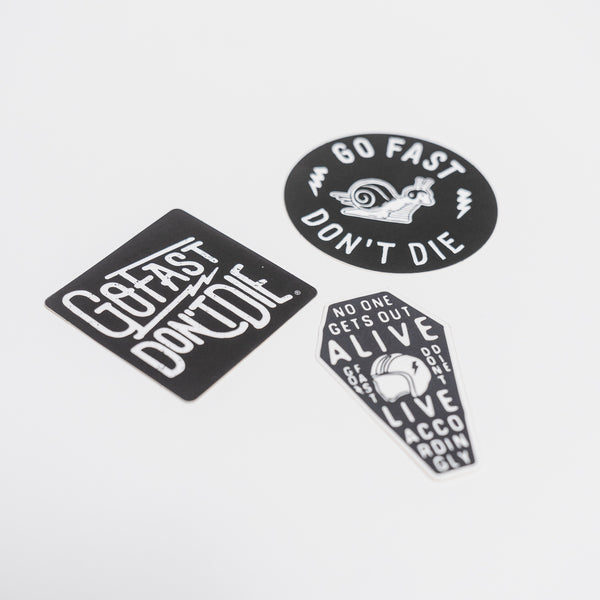 Sticky notes. A reminder that belongs on literally everything. Stick one on your forehead if you want, we're not picky, you choose. But you know... 
Coffin Sticker - 2" x 3.5"
Snailster Sticker - 2.5" Diameter
Original Logo Sticker - 2.5" x 2.5"
For best results, apply stickers to clean, flat surfaces.

Applying to rounded or curved surfaces like a helmet may cause wrinkles in your sticker when applied.

Outdoor durable, but not indestructible.
Expected more
I have several GFDD stickers on helmets, motorcycles, etc. Got this pack and was excited to have one on my car. Needless to say, I'm pretty disappointed that the one I chose is cracking, faded and peeling after only a few months.
Cool stickers
Really cool stickers for my helmet
The best combination
Excellent quality and just the right size.
Not A Fan
I ordered a shirt and 3 stickers. The shirt I was supposed to give a friend at his birthday party. I received the stickers and no shirt. I was very confused and thought I wasn't getting my shirt, which I paid over $50 for the order. Then I find out Im getting 2 packages and my shirt comes a week later, which was after the birthday party. In a email, you said how much fun it is to receive 2 packages, which is understandable when you're not paying the shipping. Im still not sure why it took so long to receive the shirt, as I was never given an explanation. Anyway, there is your review so you can stop sending me emails about it.
Let customers speak for us
from 356 reviews